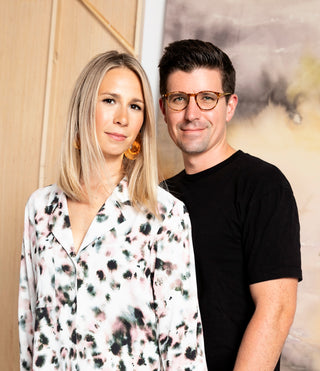 About us
Created in partnership between husband and wife Kyle Naughtrip and Nikki Martinkovic, The Scribble Society is guided by the daring notion of liberating art from its confined canvases, this artistic endeavor gracefully infiltrates the sanctuary of your closet, ensuring that every garment becomes a living canvas of self-expression.
Artist Nikki Martinkovic's approach to design is rooted in the same values that have motivated her 20+ years of artistic pursuits - with a focus on expressive energy and its connection to color, well considered in every detail. Many of her works feature layered washes with both bold high-energy strokes and layered textured pigments establishing an emotional connection to each piece. Each work is a reflection of not only her personality but a snapshot in time of her creative process.
The goal is to showcase an artfully led pursuit with intentional design behind each print all while building a community of individualized women on a journey to infuse more color and art into their lives. We aim to inspire and empower women to be their brightest self because you truly are artwork, we could admire you forever.